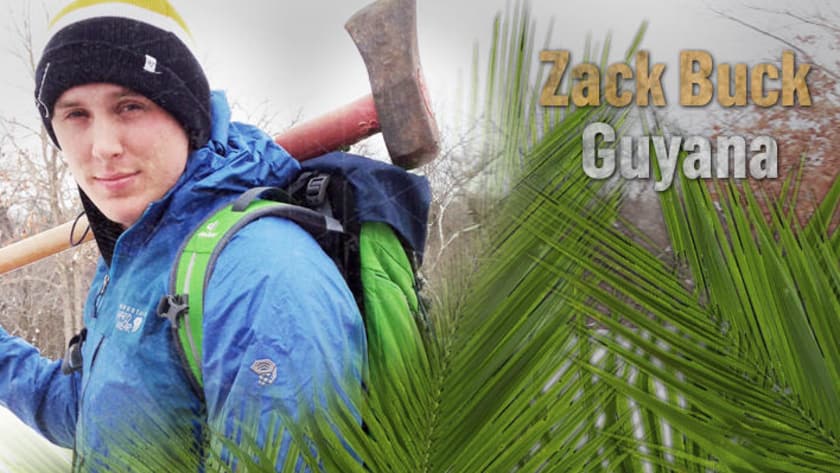 Age:
26 years old
Occupation:
Wilderness Field Instructor
Current Residence:
Salt Lake City, Utah
Relationship Status:
Married
Survival Skills:
Primitive Fire, Primitive Weapons, Tarp Shelters, Water Purification, Tracking
Zack grew up in the woods of Missouri, where he learned to make the outdoors his playground. When he was not outside in the creek playing with his cousins, he was at football practice. Zack played many sports in high school and eventually football at Southeast Missouri State University.
Halfway through college, Zack was blindsided by a love for survival television when he discovered Cody Lundin through Dual Survival on Discovery. He read all of Cody's books and watched a new scenario each week, learning new skills and trying them out. Zack believes it is very important to have hands-on training in order to be good at anything.
At school, Zack took a class called Outdoor Adventure as Treatment. This focused on Wilderness Therapy programs in the desert of Utah. These programs take in youth who have made risky decisions in life and teach them self-sustainability and accountability through primitive survival skills, peaking mountains, outdoor adventure, and therapy sessions. This combines being outside, survival skills, and serving others into one job; he was hooked. This fits his earlier ambitions: when he was young he stayed up one night praying, asking God to use him for his will. He says he looks back and believes that he is where he is today because of God's plan and takes comfort in that fact.
Zack has now worked with at-risk youth for 182 days in the west desert of Utah teaching survival skills and has spent many days of work in the Mark Twain National Forest of Missouri using outdoor adventure as a vehicle for positive change. He is Wilderness First Responder (WFR) certified.
Zack hopes to use this experience as many tribes and Aborigines have before, as a vision quest or walkabout. They would go out to find the great water while braving the harsh conditions and return a man or go out into the wilderness and come back with new-found vision. He would like to learn about himself, become a better man, test his skills, and use this experience later in life.

In his free time, Zack enjoys watching Blues hockey games, fly fishing, backpacking, peaking mountains, training in survival, playing with his dogs, board games and relaxing at home with his wife.

Facebook: https://www.facebook.com/ZackBuck93?fref=ts
Twitter: @BowDrillBuck