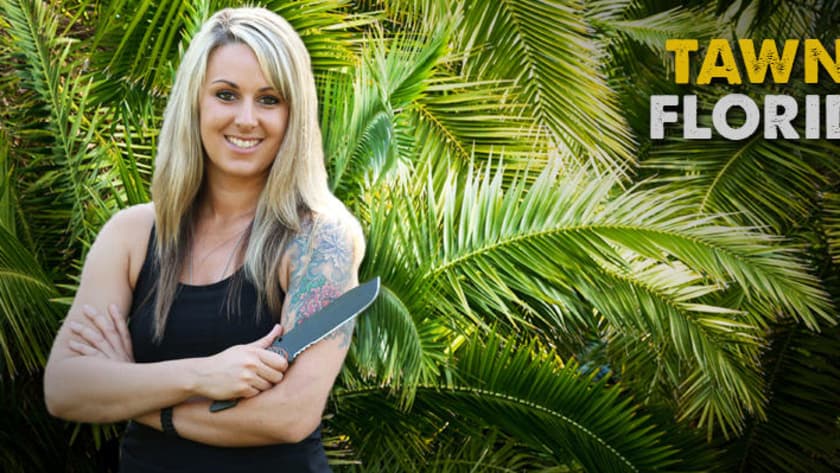 Age:
28 years old
Occupation:
Mortgage loan originator, Bartender, Single Mom, Firearms model
Current Residence:
Spokane, Washington
Relationship Status:
Single
Survival Skills:
Fire, Water, Shelter, Knots
Tawny Lynn grew up in Northern California, was raised in a Christian home, and started off with what seemed to be an ordinary life. She began to develop a survivor mentality at the age of 12 as she suffered through situations that were beyond her control. By the age of 16 she was homeless. After a year, having dropped out of high school and choosing dangerous means of coping, she left California permanently and never looked back.
At the age of 18, Tawny relocated to Washington. She got married at age 21 and they had a child named Jaelynn Kole. The marriage became unhealthy. By the age of 25, she and her husband divorced and she relocated to Spokane to begin a new life with her daughter. Feeling betrayed, she had to utilize the survival-derived mental strength to overcome the pain of feeling unloved.
Tawny then found work in banking. She became known for her sales accomplishments and was promoted to Mortgage Loan Originator within two years. Then, following the failed marriage and two failed relationships that all contained infidelities, she opened up her heart one last time but it only left her heartbroken beyond any pain she ever felt. She hit rock bottom. Within five days of the breakup, she had to defend her rights as a mother in court. This was her worst fear. However, Tawny was granted custody of her daughter. This was the greatest victory she had ever experienced, but she chose to shut the world out after the betrayal she felt. She isolated herself and stopped eating. Tawny continued originating loans from 9 to 5 and started bartending in the evenings so that she didn't have to be home alone.
Then one day her life changed. Greg, a gentleman for whom Tawny had previously originated a VA loan, walked into the bar. They began to talk. He invited her out to a shooting range the very next day to shoot and take photos with state-of-the-art weapons. Firing weapons became a way to channel her pain. It was therapeutic and changed her from the inside out. As she continued to train and post footage to social media, Tawny rapidly grew a following in the firearms industry.
Early in 2015, Tawny received an email from Naked And Afraid casting. She ignored it until speaking with friends who claimed it was their favorite show. The physical challenge did not intimidate Tawny; however, the idea of being fully exposed in front of anybody, let alone the whole world, was entirely overwhelming, especially because her image in the firearms model industry is of a classy woman not exposing herself in a provocative manner. But a challenge is a challenge, and Tawny does not like turning those away. Greg and his father Gene, both highly trained US Army and Air Force retired and active duty veterans, took her under their wing and provided her with a crash course on basic survival. This crash course was the equivalent of years of training. She became very skilled at primitive fire, tying knots to build a reliable shelter, and other basic survival skills. She was ready for the challenge.
But then tragedy struck. After a small argument with her roommate Greg Meyers, a U.S. Army combat medic, she received a terrifying phone call that he had shot himself in her home and passed away, sitting beside Tawny's own brother. She continued with casting, but spoke without emotion until she could spend the next 48 hours locked in her room and crying until no tears were left, going from angry, to sad, to confused, to guilty, and all over again. And then just like with all the other pain and trauma in her life, she shoved it away and guarded her heart. She put on her tough face and went on with life as though it never happened.
In this challenge, Tawny wants to honor Greg Meyers and his service to our country and his friendship and loyalty to herself and her family. She wanted to quit when she found out what happened, but then decided to do this for him. She wants to speak out to our veteran community. She's also doing this for her daughter, so that she will know the little girl that Tawny was and the woman that she became in spite of all the suffering. Lastly, she's doing this for anyone who suffered hardships as a child - to say that your past does not define you. She wants to be a voice for all single mothers that they are strong and capable.
Facebook:
Facebook.com/TacticalTawnyLynn

Twitter:
@TawnyLynnC

Instagram:
@Tawny.Lynn