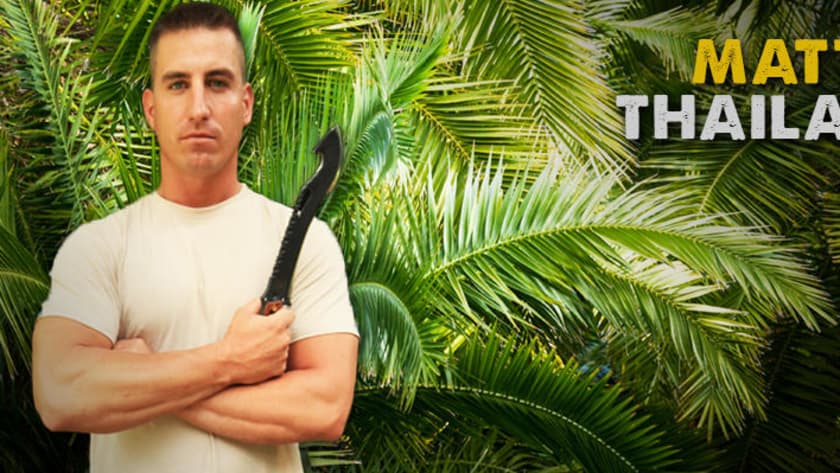 Age:
32 years old
Occupation:
Owner and Operator of Extreme Instinct LLC, making custom knives, survival gear and teaching survival classes
Current Residence:
Lakewood, Colorado
Relationship Status:
Engaged
Survival Skills:
Primitive Weapons, Fire, Trapping, Hunting, Primitive Fishing, Flint-Knapping, Basketry, Cordage, Hide Tanning, Shelter, Water Purification, Tracking, and Navigation
Matt was born in Colorado where he grew up with a love for the outdoors. While other kids played with toys Matt was out submersing himself in nature. Living in the mountains he began to discover his passion for survival and devoted himself to become one with the wild. He enjoyed learning traditional archery and primitive weapons, he even harvested his first bull elk at only 12 years old. Following his drive to hunt drove him all over the country, taking everything from a 12 foot gator with a bow to hunting Alaska's big game with the primitive Atlatl. He thrives on finding adventure and was nicknamed the "Juggernaut" for his ability to not be stopped.
After a baseball scholarship and a couple years in college, Matt settled back down in Colorado. Keeping his drive for the wild, Matt searched for his dream job. His work ethic earned him jobs from installing bank vaults to working on cruise boats, however he lusted for a job in the wild. As if second nature, Matt began guiding big game hunts and out of necessity for better gear he started his own company. To better serve his country, Matt decided to join the US Air Force where he learned important inner strength and fortitude. After an unfortunate injury, Matt was forced to go back to the civilian life. Taking this military training and his passion for making custom knives and teaching others the art of primitive weapons and wilderness survival, he grew his business from the ground up. Matt now teaches special operations wilderness survival, is a big game hunting guide and makes custom knives. Many of which are sent to professionals and elite military members serving worldwide.
When not working Matt enjoys spending his free time trying to always seize the day. He enjoys climbing Colorado's 14,000 foot peaks and running obstacle course races with his fiance. Matt's hobbies include hunting, fishing, archery, bowfishing, rafting, and just about anything that gets him outside. Matt has mastered the ancient skill of throwing an Atlatl and has proven accuracy and power to take down any game animal. Matt is regularly testing his survival skill by going off the grid into areas unknown and prides himself in being able to adapt and survive in any place on Earth.
Matt credits his love and respect for the outdoors to his Mom and Dad saying that the day he learned to walk they had him outside. Matt has noted that his father is his hero, and he has never met a stronger well-grounded man. Matt is very close to his family and regularly takes trips to Florida to visit them. Matt's mom and dad are both very active and Matt tells us that his parents will never miss a good adventure. He jokingly states that he was born naked and he is ready to thrive naked. Matt says he is looking forward to the challenge as a way to teach others the art of survival, and test himself to the ultimate extreme.
Facebook:
Facebook.com/MattWrightSurvivalist
Instagram:
@Extreme_Instinct