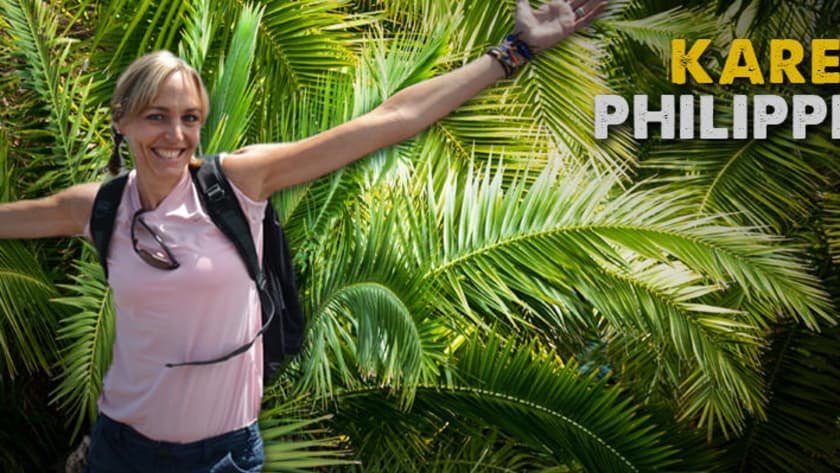 Age:
51 years old
Occupation:
At Home Mom (With 2 Wonderful Kids)
Current Residence:
North Carolina
Relationship Status:
Married (happily, for 25 Years!)
Survival Skills:
Fishing (Spearfishing Included), Hunting, Navigation, Shelter Building, Palm Weaving, Wild Game Preparation for Cooking
Karen is from a family of 4 and grew up in a loving family environment in Greece, NY. Growing up, her parents were a constant and stable source for her to rely on. She always preferred spending time outdoors with her younger brother, making primitive shelters, looking for bugs to identify, fishing, hunting, horseback riding, getting her SCUBA dive certification, boating, and playing soccer. The summers consisted of boating on their cruiser in the 1000 Islands, Canada. This is where she learned navigation, boatmanship and the art of fishing, mainly from her dad. After high school Karen entered college in Ohio. After graduating college with a major in German language and a minor in business, Karen moved to Salt Lake City, UT with her fiance (now husband of 25 years). There she continued to "play" outdoors by target practicing in the desert, skiing the Utah slopes and hiking/fishing in the summer. After Utah, Karen lived in several other states including Illinois, before settling in North Carolina since 2001.
Karen is the mother of 2 - her son is a sophomore in college and her daughter a senior in high school. The kids are Karen's top priority, however when possible she fits in exercise of any kind. She is a member of a competitive "mom's" running club in Chapel Hill coached by an ex-Olympian and wherever they race, the group sweeps the prizes. With the running group Karen has completed over 10 5K's, 7 half marathons, one 24 hour ultra run, and countless other races. Additionally, Karen competes in the Hunter/Jumper ring and enjoys the challenge of riding over fences in a competitive manner with her horse. Karen's horse trainer has taken her to challenging levels in the hunter ring and Karen meets these challenges head on. The gym is Karen's second home where she likes to stay fit and healthy. She preaches "eat to live" and hopes to be an inspiration to people of all ages and genders. She aspires to become a fit/adventure model when this challenge is completed.
Karen has always believed in the mantra "adapt or die" and believes that empowering herself with the knowledge and skills to survive will come in handy throughout the challenges life throws at her. While Karen has never been in such an extreme survival setting as this challenge will present, she is confident that she has what it takes to not just survive, but to thrive.
In this particular challenge, she looks forward ot the team work with her partner. She hopes they can get into a good routine while surviving the 21 days. She is easy to get along with but will stand her ground when challenged on something she feels strongly about. Karen has a keen sense about her and plans to use this while surviving. She is also hoping to be in as much control as possible of the constantly unfolding and unpredictable environment this challenge will present. This is where her "adapt or die" motto comes into play.
Karen's motive for going on the show is to find her physical and mental limit and then exceed it!