Julio Castano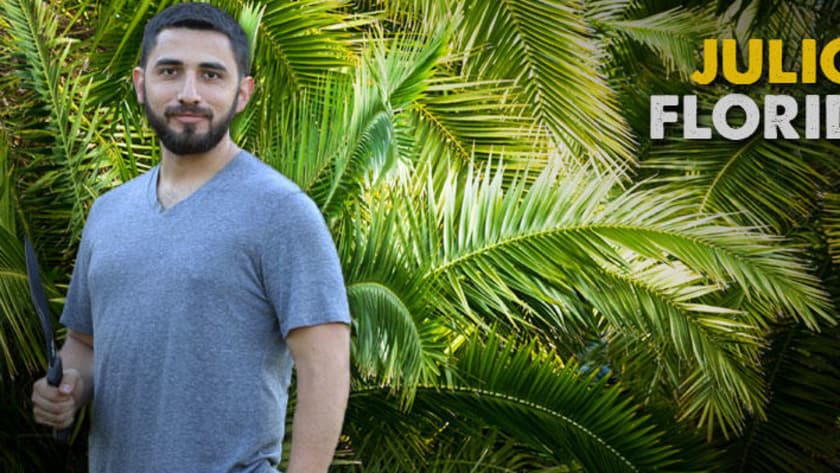 Age:
28 years old
Occupation:
Office Clerk
Current Residence:
Hollywood, Florida
Relationship Status:
Single
Survival Skills:
Trapping, Purifying Water, Making Cordage, Shelter Building, Knot Making, Fire Making
Julio was born and raised in Colombia where he went to college and graduated as a graphic designer before moving to the States. The warm climate of his hometown prepared him for the toasty beaches of South Florida where he's lived for the past nine years.
His passion for the natural world started at a very young age as he felt drawn towards the country and his grandfather's farm, where he would spend the weekends exploring the lush mountainside and observing the local fauna. This soon developed into a yearning to stay connected with the Earth and what better way than sleeping under the stars?
Being an avid reader, Julio devours every book on survival he can get his hands on, and takes his newfound knowledge to the woods until it becomes a skill. The importance of having a well-rounded set of skills has led Julio to not only focus on a particular branch of survival, but also rather become a jack-of-all-trades...and a master of none.
His passion for animals has led Julio to collect a number of different pets, such as the Goliath bird-eating spider, the world's largest tarantula. He accidentally became a scorpion breeder by buying a pregnant scorpion and thoroughly enjoys his newfound passion. Julio also tells people that he plays the guitar, but according to him, he's a terrible player.
While Julio enjoys many outdoor activities such as hiking, camping, and gardening, he also loves movies, collecting action figures, drawing, and arachnid husbandry.