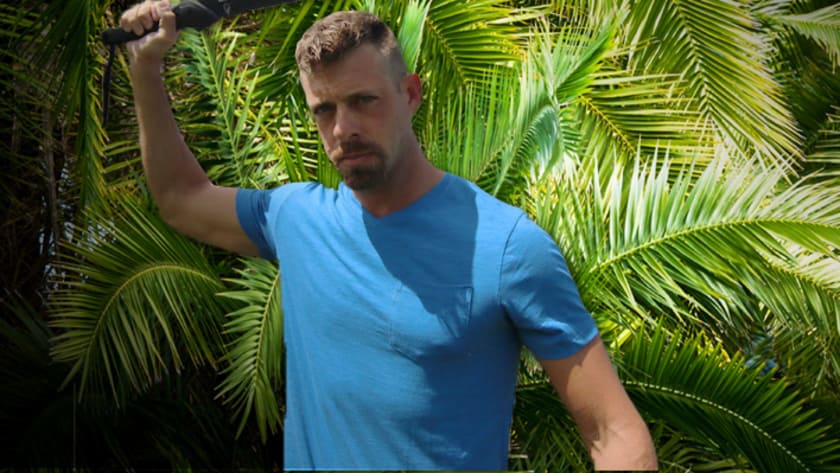 Age:
36 years old
Occupation:
Horse trainer
Current Residence:
Darnestown, Maryland
Relationship Status:
Single
Survival Skills:
Shelter Building, Fire
From a very young age, you could find Jake outdoors. Despite growing up in Baltimore City, he spent most weekends hiking, camping, and fishing. In middle school, one of his classes was on shelter building, setting a foundation for a future of primitive camping. He says his mental strength is a result of coming out of the closet in a small town in western Colorado after a lifetime of growing up in a very religious environment. He says if you can do that, you can do anything.
For sixteen years Jake has trained horses professionally, which enables him to be out in nature every day. Once a year he tries to go on an adventure, both to keep life interesting, but also to push himself outside of his comfort zone. Some of his adventures include bicycling by himself from St. Augustine, FL, to Santa Monica, CA, spending weeks in Kenya in a Masai village, backpacking around the Canadian Rockies, and spending a month living off the land in the interior of Alaska, which was both a huge physical and mental challenge. Despite this, he says it was the adventure of a lifetime, and he would do it again in a heartbeat.
Jake is not one to shy away from an adrenaline rush. He has competed in bull riding, steer wrestling, and full contact jousting. He's been shark diving, swimming with crocodiles, caving, rappelling, and cliff diving among other activities. When not working with horses, Jake enjoys playing the guitar, long walks on the beach, and wildlife photography. Between working around a farm and going to the gym several times a week, Jake tends to keep in good physical condition.
Jake cannot wait for his next adventure, and looks forward to being pushed to his physical and mental limits on Naked And Afraid. The idea of being able to live off the land with not even a shirt on his back, is something that he eagerly awaits.
Twitter
:
@JakeNodar