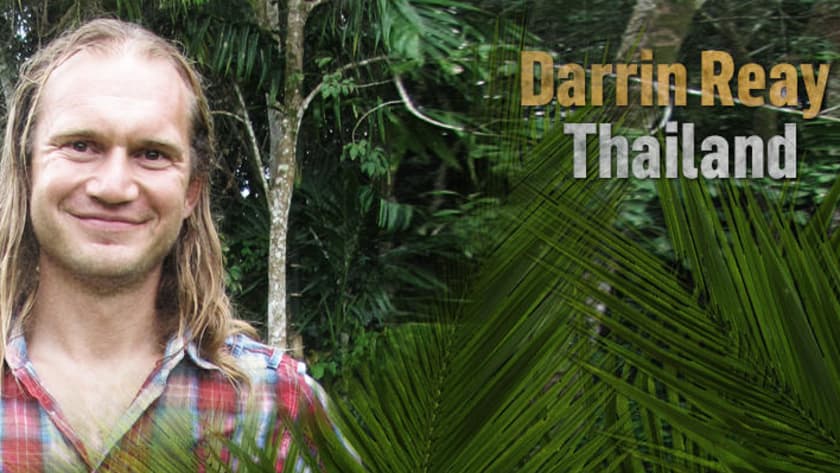 Age:
33 years old
Occupation:
Rock climbing/canyoneering/wilderness survival guide, backcountry chef
Current Residence:
Moab, Utah
Relationship Status:
Single & Available
Survival Skills:
Flint knapping and Paleolithic tool construction, primitive fire making, primitive hunting/fishing/trapping, tracking, mountaineering
Darrin was born on the Wind River in Wyoming and grew up in Sheridan, Wyoming. He spent all his time hunting and fishing in the woods and mountains of the area, or roaming the hills of his uncle's ranch. His quest to learn to live off the land started very early in life as a profound love for nature and as a way to connect with his Native American heritage. His intent was never to just merely know how to survive but to learn to live as one with nature as his ancestors had.
By age 10, Darrin was knapping his own arrowheads from obsidian, hunting with a self-made bow, and was able to forage for wild plants. He had also become quite skilled at making shelters, trapping and fire making, and was going on solo camping trips, testing his skills at every chance. He gathered his knowledge from every old timer, elder and uncle he could find along the way.
Darrin spends most of his time now rock climbing at Indian Creek, Utah, exploring the desert, or in the Colorado Rockies backpacking, climbing, prospecting, fly fishing and hunting with his dog, Karma. He makes his living working as a rock climbing/canyoneering guide and backcountry chef out of Moab, Utah and llama packing climbers around the Wind River Mountains in Wyoming. He also frequently spends time prospecting for gems and minerals, or doing just about anything else someone wants to hire him to do as long as it's outdoors and he can bring his dog along.
As a guide, Darrin's survival skills have given him the confidence to guarantee his clients their safety no matter what the situation. He gets to spend eight to nine months a year under the stars, with his Paleolithic skills getting put to frequent use. For anyone that spends large amounts of time in a wilderness setting, he feels good survival skills are a must.

Because he has never traveled outside of North America before, Darrin is most excited about being able to adapt his skills and connect with a new environment while on this challenge.
Facebook:
Darrin On The Mountain

Instagram:
darrin_onthemtn