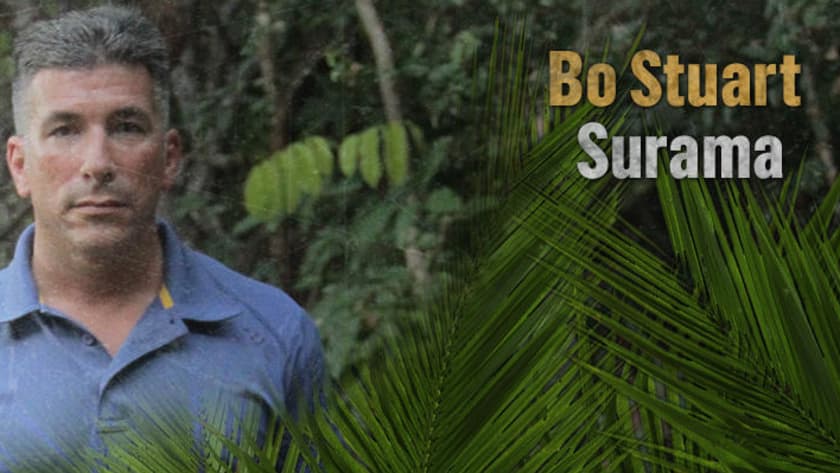 Age:
44 years old
Occupation:
U.S. Army Special Forces officer
Current Residence:
Chesapeake, VA
Relationship Status:
Happily married for 20+ years
Survival Skills:
Shelter construction, primitive fire, hunting, fishing
Bo is a lifelong Army brat, growing up all over America and the globe. This afforded him the opportunity to experience different geographic areas, climates and cultures. While living in Hawaii, he began his interest in survival techniques, including harvesting wild food and building shelters, which would pay off in the future as a soldier and a survivalist. He also developed a love for deer hunting and fishing learned from his father, grandfather and uncle.
At twelve years old, Bo's father took him to work as a soldier for a month, where he got to play the "opposing force" for a military training exercise in Hawaii. After running around for a month in the wilds of Hawaii building fighting positions and carrying an M-16 rifle, he was determined to become a soldier. He set his sights on becoming an Airborne Ranger Infantry officer so that he could jump out of airplanes, shoot guns and blow things up. Upon completion of high school in Seoul, South Korea, he earned an Army ROTC scholarship to college and graduated from North Georgia College in 1993, receiving commission as an Infantry Officer.
After marrying his college sweetheart, Bo began his career as a young Infantry officer, graduating from Airborne, Air Assault, Ranger Schools, and being deployed to Hawaii, Thailand and Panama. The Army's Jungle Warfare Course sparked an interest in survival skills in 1995.
Bo attended the Army's Special Forces Assessment and Selection course in 1998 and upon completion of the world-renowned Special Forces Qualification Course, he received his coveted Green Beret, serving as a Latin American Specialist in the 7th Special Forces Group. He also attended the notoriously difficult and challenging Survival, Evasion, Resistance and Escape Course (High Risk), where he received his graduate level survival instruction and practical application. He was deployed to eleven different South American countries, eight other countries, as well as multiple combat tours in Iraq and Afghanistan.
Bo is currently an instructor at the Joint Forces Staff College in Norfolk, Virginia. He enjoys backpacking, hunting, Brazilian jiu-jitsu, and Mixed martial arts. He lives with his beautiful wife and two teenage children, currently planning his next adventure to climb Mount Rainier. Nearing retirement from the Army, he is deciding what he wants to do when he grows up.
After seeing the first episode of Naked And Afraid, Bo wanted to give it a try. He is very confident because of his years of experience in South American jungles.
Facebook:
facebook.com/7thSFG18AGreenBeret