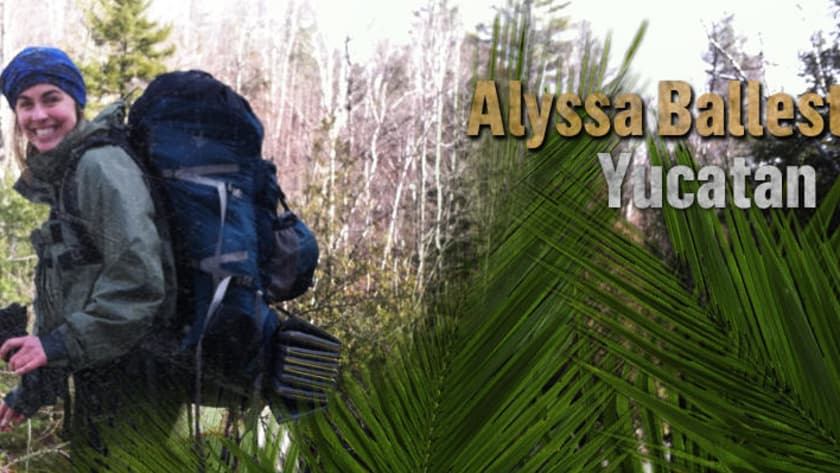 Age:
27 years old

Occupation:
Social Worker
Current Residence:
Madbury, New Hampshire
Relationship Status:
In a Relationship
Survival Skills:
Friction fire, shelter, water purification, fishing, hunting

Alyssa grew up in the backwoods of New Hampshire. Because her home was secluded in the woods, her brother and sister were her best friends and comrades in their discoveries of the wonders of the forest. They would build treehouses, catch frogs, make go carts from the recycling center a few miles down the road, or create hot tubs in the sand pits for their Polly Pockets.
In kindergarten, she and her family moved to Brazil for a year with only a suitcase and one toy to her name. Her mom homeschooled her that year and a part of her education involved experiencing the cultural differences of a developing country; living a life of simplicity and learning humility. With very few resources and lots of unscheduled time, she learned how to be very creative and resourceful. Then again in middle school, her family swept her away, this time to live in Puerto Rico, where after school activites included; climbing trees, adopting stray dogs, snorkeling, surfing in the ocean (which also happened to be her backyard), watching baby sea turtles hatch and swimming out to sea with them as they made their journey into the world.
She loved New Hampshire so much that she went on to complete her undergraduate degree at the University of New Hampshire, completing her degree in Outdoor Education. Alyssa was able to study one semester abroad in Senegal, Africa, focusing on micro loans for women's business; and one semester with the National Outdoor Leadership School in the Brazilian jungle, where she traveled down the Amazon River canoeing, backpacking, and living with river dwellers for three months.
In 2009, she started her five year career as a crew leader for the Student Conservation Association. She taught environmental education as well as built trails in many National Parks.
She acquired her survival skills in the desert for Outback, a program for high risk teenagers. In this position, she learned and practiced her primitive survival skills of the Australian Aborigines culture. Alyssa spent her days working in the desert for this wilderness therapy program where the teens had to make their own survival tools and practice survival through snow, rain, oppressive heat, and drought. Her job taught her, and every teen that went through the program, the mental strength and determination to survive.
Alyssa is currently living in Northern Maine where she is a social worker for adolescent girls who struggle with emotional and mental challenges. She spends a majority of her time training her bloodhound dog, Olive, to become a Search and Rescue canine as well as teaching her that fetch is a two person game, not one. You can also find Alyssa hiking in the woods, hunting, tanning hides, doing trail work, running, day dreaming, working on logic puzzles, or finding people to play catch phrase.

Facebook: https://www.facebook.com/pages/Alyssa-Ballestero