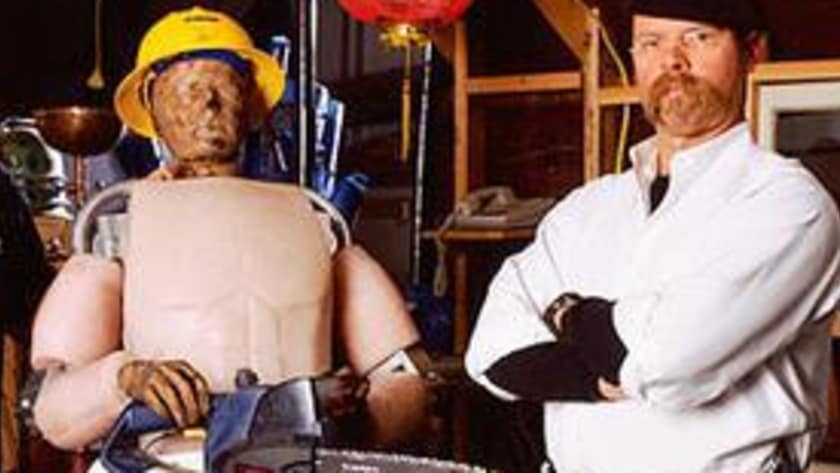 BUSTER, one of the biggest stars ever, is the infamous stunt dummy on MythBusters.
Though he hails from humble beginnings, Buster grew up like any other little guy, with a love for sports and fast cars. But it was in drama club where Buster found his true talent. And so, after high school and a particularly well-reviewed performance as Yorick in a local production of Hamlet, Buster moved to Hollywood.
There, Buster took odd jobs to pay the bills between auditions. But soon enough, he landed his first commercial, for Insane Auto. It was his on-camera presence that caught the attention of the MythBusters producers, then casting for the new Discovery Channel series. In 2003, Buster's big moment finally arrived when he was hired to drive the car in the jet-assisted Chevy myth. As castmate Tory Belleci recalls, "Everyone was just like, 'Who is that?' And someone said, 'That's Buster, man. That's Buster.'"
The show was a hit, and America went crazy for the dummy. But while Buster enjoyed the golden life, his fame soon put him on a crash course to reality. By 2005, as Buster's demands got bigger and grander — luxury trailers, stunt doubles, personal chefs — rumors of discord on the MythBusters set began to appear in tabloids. Eventually, hard living catapulted Buster to rock bottom, and only an intervention by his costars — and some time in the Henry Ford clinic — returned him to superstardom.
Today, the MythBusters are as big as ever, and its hunk made from junk is back as its star stuntman. Says castmate Grant Imahara, "He's a pro. There'll never be another one like him ... well, until we have to build a new one."
Meet the MythBusters: Jamie Hyneman | Adam Savage | Tory Belleci | Kari Byron | Grant Imahara | Buster