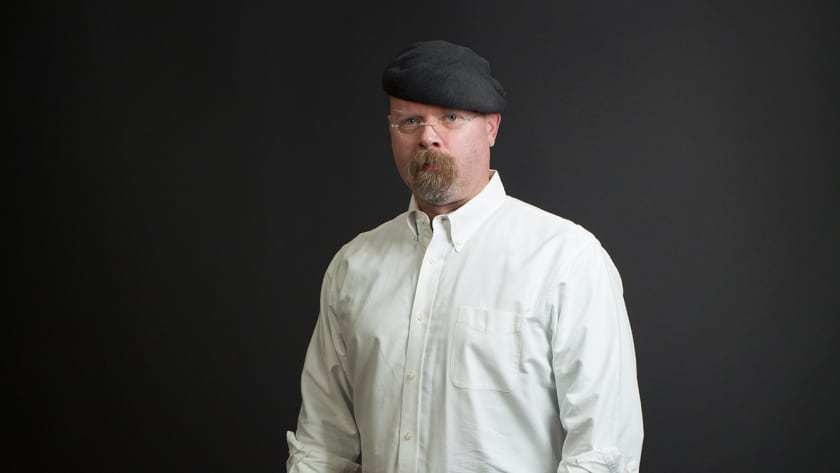 Hailing from Indiana farm country,
JAMIE HYNEMAN
is a multifaceted man: He's been a wilderness survival expert, boat captain, diver, linguist, animal wrangler, machinist and cook, to name but a few.
Jamie earned a degree in Russian languages and ran a sailing/diving charter business in the Caribbean for several years before he moved over to the visual-effects industry. After working for several special-effects companies, Jamie found his way to Colossal Pictures' model shop, where he managed the production of models and special effects for hundreds of commercials and movies. Then, 20 years ago, Jamie took over the shop and created
M5 INDUSTRIES INC
, now home to
MythBusters
and its production crew.
Over his career, Jamie has worked on more than 800 commercials for major automobile manufacturers, soft-drink companies, athletic shoes and numerous other products -- including 7-Up's spitting vending machine and Hershey's jingle-bell-ringing Kisses. His work can also be seen in such movies as
Francis Ford Coppola's Dracula
,
Arachnophobia
,
Naked Lunch
and
Flubber
.
It was in 1993 that Jamie met Adam Savage, during the period when Adam was building unique props for stage productions in the San Francisco Bay area. Jamie hired Adam to work with him as a model maker, and they went on to collaborate on more than 100 commercials together -- not to mention the combat robot Blendo,which was removed from Robot Wars competitions in 1995 and 1997 for being too dangerous. (It was subsequently awarded co-champion status in both.)
Years later, when Jamie was approached by Beyond Productions of Sydney to host
MythBusters
, he reached out to Adam to join him, feeling that between his experience and Adam's liveliness -- and their straight guy/foil combination -- they would make a good team. It turned out to be a great call. The rest is history, as they say.
Like Adam, in addition to co-hosting and producing MythBusters, Jamie appears on
TESTED.COM
. His videos include podcasts with Tested's Will Smith and Norman Chan, as well as one-off pieces in which he shows off "toys" such as his electric outboard boat motor and high-pressure air gun, describes the year he left home (at age 14) and tests the Oculus Rift virtual-reality goggles. His television cameo appearances, along with Adam, include
CSI: Crime Scene Investigation
,
The Simpsons
and Disney's
Phineas and Ferb
. And Jamie's public appearances include San Diego Comic Con (annually, since 2008) and occasional speeches such as 2014's e.g. Conference.
Today, while executive producing and hosting
MythBusters
and other television projects occupies the majority of Jamie's professional activities, he has produced a steady flow of innovative products at M5 Industries, as well as in collaboration with the Office of Naval Research, the U.S. Army and several universities. As a result of this he holds two honorary doctorates and several patents in areas ranging from electro mechanical products to solar energy collection and ultra efficient armor. Jamie is also a long-standing Screen Actor's Guild member.
Jamie lives in the San Francisco Bay area with his wife and their two dogs.
Watch
JAMIE HYNEMAN VIDEO
.
SEE PICTURES OF JAMIE HYNEMAN
!
Meet the MythBusters:
Jamie Hyneman
|
Adam Savage
|
Tory Belleci
|
Kari Byron
|
Grant Imahara
|
Buster