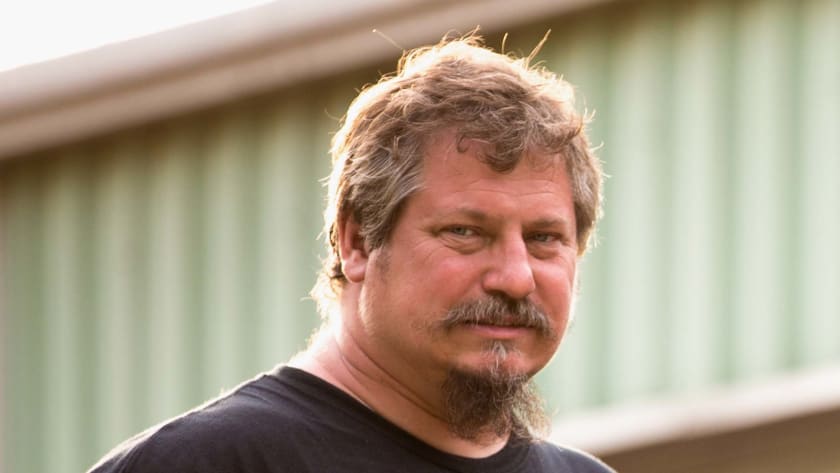 Meet Tom Smith: heckler, singer, comedian, man of mystery, master mechanic.
Born in Ohio – also the birthplace of aviation and beer cans – Tom's family moved to Georgia, where he spent an inquisitive childhood tearing things apart – and sometimes putting things back together. A man of a thousand talents at even a young age, Tom placed third at the state spelling bee championship (he is quick to remind you that it was Georgia after all, so it "doesn't really count").
Tom worked on cars as a kid at his uncle's house, and received his first traffic violation when he was just 10 years old (and couldn't legally get a license yet), for driving a 74 Pontiac Grandville. The police tried to pull him over for joy riding, and Tom instead crashed into the cops. He went home to a spanking.
At age 12, Tom moved in with his grandmother and helped her out at home.
After high school, he returned to Ohio and owned his own auto shop in a shady part of town. He put his ex through nursing school, took care of their kids during the day, and worked on cars at night.
Tom moved around for a few years working on television towers, including Tower 2 of the World Trade Center. He has a patent on a kill switch he invented for towers, and was the first to outfit a hoist with a fuel injected engine. Tom got back into cars in Texas, where he worked on hot rods for four years for Driver's Edge. Tom's bread and butter is drivability – it's what he does best. He loves engines running, generating power, burning rubber, the smell of racing fuel, driving sideways… anything faster, harder, and stronger than before. His dream cars are the 64 Thunderbolt and the 65 Shelby Cobra.
Tom's a man's man – he likes huntin', shootin', fishin.' He loves the impossible shot – hitting the dime, really long shots. He's a deer's favorite kind of hunter, though: clumsy, loud, and not a great shot. Tom says no animal has ever been injured because of him. He also loves bass pro fishing - the lure of the fish, eating it, the whole thing.
Tom has done amateur stand-up comedy at Christie's in Manhattan and at the Dallas Improv. He would love to do stand-up comedy on the show – such as a skit where he goes door-to-door in a neighborhood soliciting "no soliciting" signs, or where they all four get together and "form a more perfect union," or Jordan jet boats "out the ass," and each episode has something made with bacon (another of Tom's passions).
He's raced every vehicle on the planet, drives junk because if he has to drive a Ferrari he'd have to see how fast it goes, he is addicted to Facebook, loves to read, has collected the works of Isaac Asimov and an autographed copy of Albert Einstein's autobiography, and has "nine-million" bacon recipes (including cinnamon bacon rolls) – all of which he wants to share in the show.
Tom Smith – man of metal, muscle, and steel. And bacon. And he's fired-up.