Mitchell Langon and Jhoanna Trias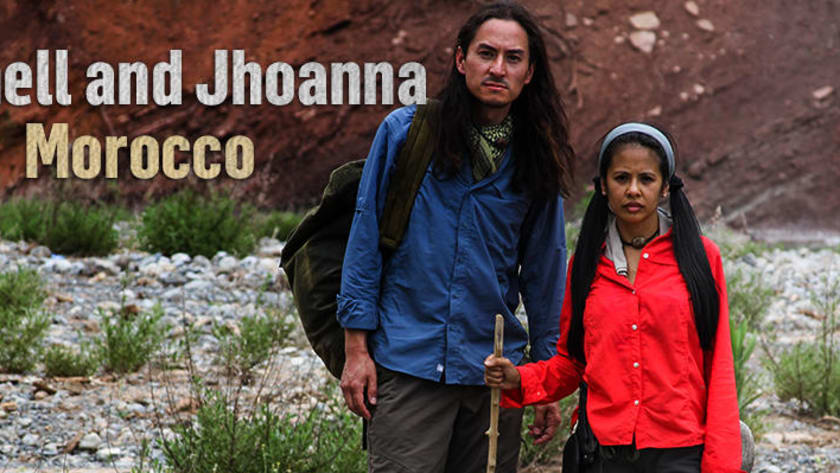 Mitchell


Age:
40 years old
Occupation:
Survival Preparedness Instructor and Consultant, small business owner and operator
Current Residence:
Las Vegas, Nevada
Relationship Status:
In a Committed Relationship for 3 years
Survival Skills:
Fire Making, Shelter Building, Land Navigation, Marine Navigation, Mountaineering, Climbing, Watercraft Construction, Wild Edibles, Medicinal Plant Identification, and much more!
Jhoanna

Age:
40 years old
Occupation:
Entrepreneur, Student (always learning), Survival Equipment/Prepper/Surplus Retail Business Owner
Current Residence:
Las Vegas, Nevada
Relationship Status:
In a Committed Relationship for 3 years
Survival Skills:
Foraging, Building Shelter, Knowledge of Plant Life
Born at Mather Air Force Base in Sacramento, California, Mitchell was raised in Napa Valley by his grandparents, father and loving aunts and uncles. Mitchell's grandparents were a profound influence on his formative years. Napa Valley may be known to wine lovers for its expansive vineyards and haute cuisine, but it's also a place of lush redwood forests, rugged mountains, pristine lakes, rolling rivers and undulating valleys. It's these vibrant and diverse locales that nurtured Mitchell's sense of adventure and inspired him to develop the expert wilderness skills that would soon become his lifestyle, and would go on to teach others.
After graduating from Napa High School, Mitchell decided to enlist in the United States Navy, to honor his grandfather, Warren E. Langon. Sadly, while serving his country overseas, Mitchell lost the most influential figure in his life, his grandfather. Mitchell, from that point on, decided to dedicate his life to seeking adventure, traveling, and pursuing his love of the wilderness to honor his beloved grandfather and grandmother.
At just four years old, Jhoanna moved to the United States from the Philippines and was raised near Sacramento, California. Growing up in the foothills of Northern California, her family prospered from the fertile valleys, growing their own organic fruit and vegetables as well as raising their own farm animals. It was at an early age that Jhoanna's passion for the outdoors, nature and survival skills began to take form. The eldest of five children, she grew up being a tomboy and playing sports with her brothers, building forts, camping, fishing and even making homemade slingshots, spears, bows and arrows. It was not until later that she realized during her adventurous childhood that she was actually learning valuable survival skills.
Mitchell has traveled throughout the world extensively, both as a civilian and while serving his country in the US Military. It is during these extensive travels that Mitchell has relentlessly challenged and honed his expert survival skills. He is extremely skilled in all climates and wilderness settings from humid rainforests and tropical islands to alpine, high-altitude mountaineering. He's even developed his passion for adventure and primitive survival into a flourishing business to instruct and train others, sharing his accumulated extreme survival knowledge and expertise.
Jhoanna also gained invaluable experience by working for local farmers and ranchers and furthering her outdoor craft skills building barns, fences, homes and farm irrigation systems. Today, she continues to take courses, attend prepper groups, read books and magazines and travel abroad with friends. She's also passionate about ancient history and enjoys studying how ancient cultures built their own shelters and hunted and gathered their own food.
Mitchell is also a classically trained culinary chef. Growing up amongst the famous vineyards and world class restaurants in Napa, Mitchell's passion for food led him to becoming an accomplished culinary chef. He proudly graduated with honors from the prestigious California Culinary Academy in San Francisco, California. While he has trained with some of the most sophisticated palates in the world, he admits with a smile, that he will be less picky about the menu during his three week survival adventure into the wild.
Jhoanna is grateful to have a survival expert as a boyfriend, but is also anxious to prove her own skills on this three-week survival challenge. Together, Jhoanna is confident that with a little "teamwork," there is no obstacle that she and Mitchell can't overcome.