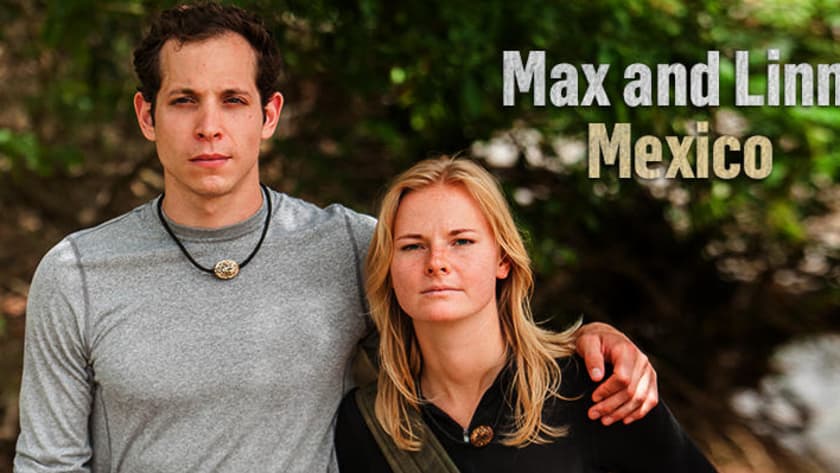 Max


Age:
27 years old
Occupation:
IT Territory Sales Manager
Current Residence:
Seattle, Washington
Relationship Status:
In A Relationship For About A Year
Survival Skills:
Shelters, fishing, foraging, navigation, common sense
Linn

Age:
27 years old
Occupation:
Strategic Project Manager
Current Residence:
Seattle, Washington
Relationship Status:
In A Relationship For About A Year
Survival Skills:
Knots, Foraging, Building Shelter, Knowledge of Plant Life
Max was born in Boston and moved between California, Switzerland, and upstate New York before settling down in Central Pennsylvania. His parents emigrated from the Soviet Union in the 1970's and worked tirelessly raising five children. Much of his time was spent enjoying the outdoors going fishing, hiking, and camping with his brother and three sisters. Like most young boys Max was interested in learning wilderness survival skills. With no formal training, he learned to fish and trap, tie knots, build shelter, and make fire (without a lighter).
To the family, Max was known as "Curious George" -- not only did he look like a little monkey, but hew as also inquisitive and curious. His curiosity about the world led him to pursue many hobbies including travel, carpentry, and sports. He trained in gymnastics twenty hours a week from age 4-18 and studied a great deal to succeed in school.
Linn was born in Germany - as a child, her itinerant family moved several times. Most of her idyllic family vacations were spent camping and hiking, which nurtured her precocious interest in nature, wildlife and adventure. Growing up, Linn spent time with her parents mushroom hunting throughout the pastoral countryside and learning about indigenous berries and other native plant life. Her entire life, Linn has maintained a passionate curiosity and fascination with nature and how humans have become increasingly separated from it; so much so that most people wouldn't know how to survive without the comforts of modern technology.
When it was time for college, Max attended Penn State University's Schreyer Honors College where he competed on the Varsity Diving Team before bcoming the Nittany Lion Mascot from 2010-2011. Although busy majoring in Mathematics, Economics, and Statistics, he satisfied his worldly curiosity by traveling. Max studied abroad in both England and Russia; he bicycled from Connecticut to San Francisco with his brother one summer; he traveled through Southeast Asia for pleasure; and he completed an Iron Man triathlon.
Always intellectually curious, Linn is continually attracted to anything adventurous and unknown, leading to her travel extensively to all corners of the world. She spends most of her weekends hiking and camping in the expansive wilderness of Washington and nearby Canada. Her restlessly active lifestyle gives Linn an opportunity to practice her survival skills, "even if just for fun." Knowing and perfecting primitive survival skills has always been important to her, as it gives her a proud sense of independence, knowing that she can take care of herself in any situation.
In his free time Max enjoys sailing, designing and building furniture and lights, surfing, camping, snowshoeing, and making fun of Linn. He loves spending time with his 4-legged friends, Zjook the Great Dane and Rascal the Bengal Cat. One of his recent and most favored hobbies has become volunteer coaching at a gymnastics academy in Seattle.
Linn spends a lot of time dancing and singing. She began studying music theory as a child and music has always been a big part of her life. When Linn is not busy with one of her other hobbies, you can probably find her jogging around Seattle.
Because Linn does not have family in the U.S., Max and her close friends have become her surrogate family (although her parents could never really be replaced.) She embraces her leisure time goofing around with Max. Above all, she loves having fun and is constantly mindful about being happy every day of her life. That philosophy, combined with her competitive personality has led her to a good natured, yet fierce pranking rivalry between her and Max. Since she is currently in the lead, she says, "I expect a counterattack very soon."
In regards to surviving in the wild, Max says, "I am excited to tackle the challenge with Linn and to see how it tests our relationship." He's curious about how well they will function together under the most stressful situations imaginable. He also looks forward to "putting my survival skills to the test and pushing my physical limits."
Linn agrees, adding, "in our daily lives, people hardly ever need to rely on their partner to an extent where a wrong decision could cause serious injury or death." She is also excited to see how hunger and fear will affect her ability to make good decisions in pressure situations, but is confident no matter what happens during their three week survival challenge, they will be able to overcome any adversity together.