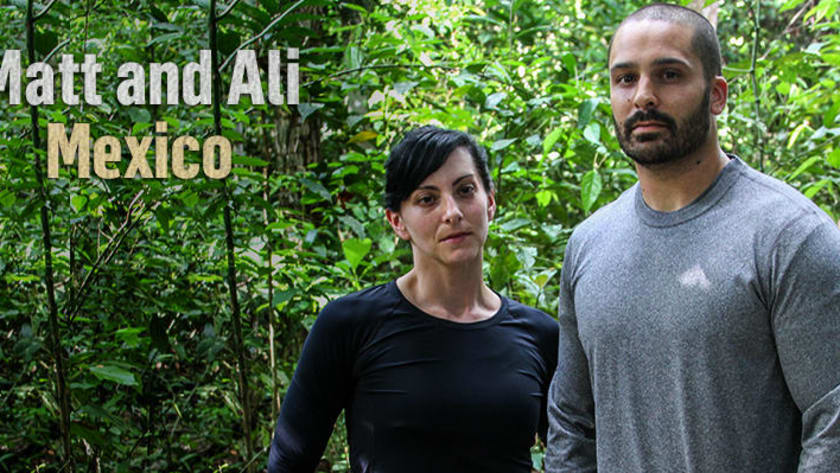 Matt


Age:
30 years old
Occupation:
United States Air Force
Current Residence:
Spokane, Washington
Relationship Status:
Married for 7 years
Survival Skills:
Sheltercraft, Firecraft, Navigation
Ali

Age:
33 years old
Occupation:
Personal Trainer/Bodybuilding/Account Manager
Current Residence:
Spokane, Washington
Relationship Status:
Married for 7 years
Survival Skills:
Basics, Fire, Shelter, Water Purification
Children:
Matteo (15), Isabella (9), and Greyson (4)
Born in Chicago, Matt discovered his passion for the outdoors while growing up in the verdant hills of Apex, North Carolina. Not far from the Appalachian trail, his Carolina upbringing nurtured a call to adventure and a precocious desire to explore the lush, surrounding wilderness. In his youth, Matt recalls a restless curiosity to "take off out of my house (without permission from my parents)" and explore the rich, wooded terrain of North Carolina for endless miles.
With friends, Matt would, as a teenager, hike through "old, worn out bike trails and take them as far as they went." Often times, Matt says, "we found ourselves fishing in the red, clay creeks and hunting with homemade slingshots." It was during these adventurous childhood moments that his interest in the wilderness and primitive survival took hold.
Ali grew up in Albuquerque, New Mexico and was raised by a devoted single mother who worked several jobs to support them. As an only child, Ali often entertained herself with a precociously vibrant imagination, creating make-believe backyard adventures. She spent most of her time outside building forts, tracking wildlife, exploring nearby wilderness and playing sports. It is during these formative childhood moments that Ali gained valuable self-confidence and an innate sense of self-reliance along with her appreciation for the outdoors.
Matt has always felt he was blessed with an innate sense of direction - whether it be in the city, or out in the wild. He continued to master and hone his outdoor talents and survival skills throughout his life, ultimately culminating in his military service with the United States Air Force.
It was not until Ali met Matt that she began to truly discover her passion for survival skills. With Matt's talents in survival training, he often spends time around the house teaching Ali and their three children basic survival skills, bringing them closer together as a family. Even after years of elite survival training and specialized military experience, Matt feels that the most valuable tactical survival skill one can master is the ability to find humor in any given situation. He strongly believes that "laughter and humor are the keys to success and happiness in life."
Ali anxiously takes on this three week survival challenge in an effort to better understand and appreciate her husband's passion for adventure and outdoor survival, and to prove herself to be an equal counterpart. Setting an example for their children and other women is extremely important to her. Matt also knows this will be an incredible, once in a lifetime opportunity for Ali to expound upon her primitive survival skills and for them both to flourish and succeed together as a couple. No matter what extreme survival challenge awaits, Matt is confident "that in the end, we will both, 'Shut up and do it.'"
Still, he admits that he will "probably be craving Ali's delicious, green chili chicken and cheese enchiladas the most."