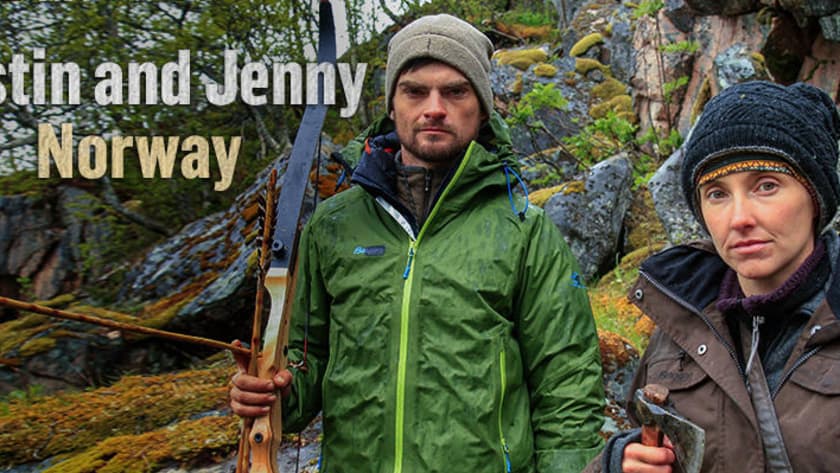 Justin


Age:
33 years old
Occupation:
Environmental Scientist
Current Residence:
Pensacola, Florida
Relationship Status:
Married for 2.5 years
Survival Skills:
Hunting, Gathering, Woodcraft, Flintknapping, Primitive Archery, Making fire by friction, Cordage Making, Hide Tanning
Jenny

Age:
34 years old
Occupation:
City Planner
Current Residence:
Pensacola, Florida
Relationship Status:
Married for 2.5 years
Survival Skills:
Cordage Making, Primitive Bow Hunting, Fishing, Fire by Friction with Bamboo, Mental Strategist and Critical Thinker, Shelters and Land Navigation
Children:
No children, several pets - 3 dogs and 2 cats
Justin was raised in rural Northern Alabama. Growing up on a farm surrounded by woodland, he became very interested in the natural world at an early age. Hunting and fishing with his father, grandfather, and friends was normal routine. At a very early age Justin became fascinated by the rich natural history and archaeology of the Southeast; he was incredibly intrigued by the arrowheads and artifacts he would encounter in the woods. Justin became so interested in Paleolithic technology that he spent years traveling the country learning from master flintknappers.
Jenny grew up in northwest Georgia in a small town nestled in the foothills of the Appalachia. She spent most of her childhood exploring the surrounding forests and caverns, fishing, building tree houses and forts, and boating and camping along the Tallapoosa River. Growing up, Jenny was captivated by the stories of the Old West and early explorers. She was very focused on primitive life skills: basket weaving, archery, pottery, fire building, and shelters. Those early interests in primitive cultures would later lead her to focus on public history in the Southern United States in college. Her academic background refined her knowledge of how everyday tasks were accomplished before modern technology.
After graduating from the University of Alabama, Justin worked on a native plant garden in upstate New York, also as an environmental educator, archaeological surveyor, and a carpenter. He currently works as an Environmental Scientist for the state of Florida. Jenny is a city planner for the West Florida Region, and works with a special focus on bicycle and pedestrian transportation. She works to create programs, policy and projects to make it easier for people to get around by bike or foot - rather than relying on cars for everything.
To Jenny, being active outdoors and relying on her knowledge of the natural world was just a typical way of life. She was not aware that her adventurous childhood experiences could be considered atypical "survival skills" until she met Justin, a lifelong woodsman. Jenny's father is an avid camper and history buff, and she grew up learning a great deal from him. He is a Vietnam Veteran and was tested in combat; as a result of his experiences, Jenny's father has always stressed that endurance is the key to success.
In their spare time, Justin and Jenny like to backpack, camp, and fish in the Gulf of Mexico. Justin also attends and demonstrates prehistoric technology at several annual archaeoskills events throughout the Southeast.
Justin is extremely confident in his survival abilities. He has a solid foundation in wilderness survival and primitive self-reliance technologies however; he believes the greatest survival skill is being able to keep a cool head. Jenny stresses the importance of self-reliance in her life. She has an independent and inquisitive spirit that pushes her forward in any situation.
Justin realizes the risks of accepting a challenge this grueling. To take on this challenge, in a demanding environment completely foreign to Justin and Jenny, a place where the sun does not set, where Vikings once patrolled the coast will be one of the greatest experiences of their lives. They are ready to face a full range of emotions that they have not faced yet and know that they will have to work as a team throughout the adventure.