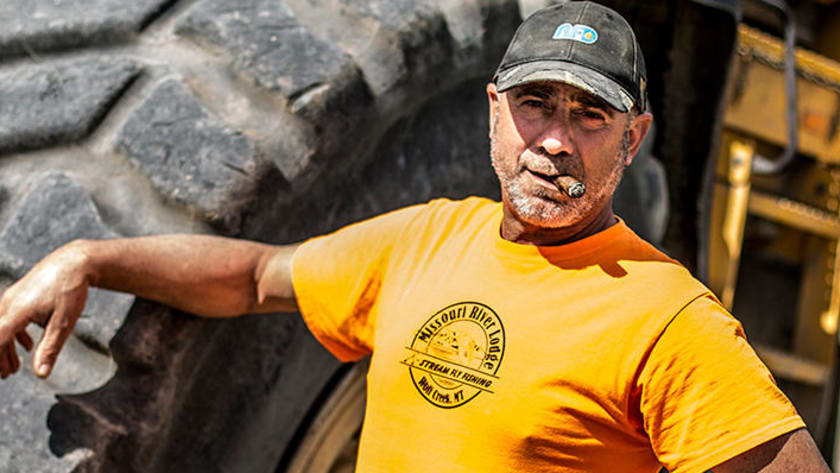 Chris Doumitt can usually be found with a big smile on his face and a big cigar between his teeth while either loading the washplant or cleaning up another gold haul at Scribner creek.
Chris' gold mining career happened by accident. In 2010, he was a carpenter asked to build a cabin for the Hoffmans. The job was meant to take ten days, but Chris ended up staying with Todd's crew for five months and learnt how to gold mine by trial and error.
Chris says panning for gold gives him a thrill, "like opening a Christmas present." As one of the hardest workers on the team he puts his legendary work ethic down to growing up on a farm. Chris remembers learning to drive a tractor before he was even tall enough to see through the windshield, "Being a farm boy, you don't have working hours. You do the job for as long as it takes until it's done."
Last season was a difficult year for Chris and his family. He describes it as his toughest season ever. His wife Sharon was back home battling cancer, he underwent back surgery and his truck was stolen. This year, with his now cancer free, things have taken a turn for the better and Chris is hoping for a great season back with the Schnabel crew.
Chris worked for 25 years as a plant carpenter before he came to the Klondike. In his spare time, he is a competitive rifle shooter and makes his own wine. He also teaches responsible gun use to young people. Married to his wife Sharon for 45 years, the couple have two children.