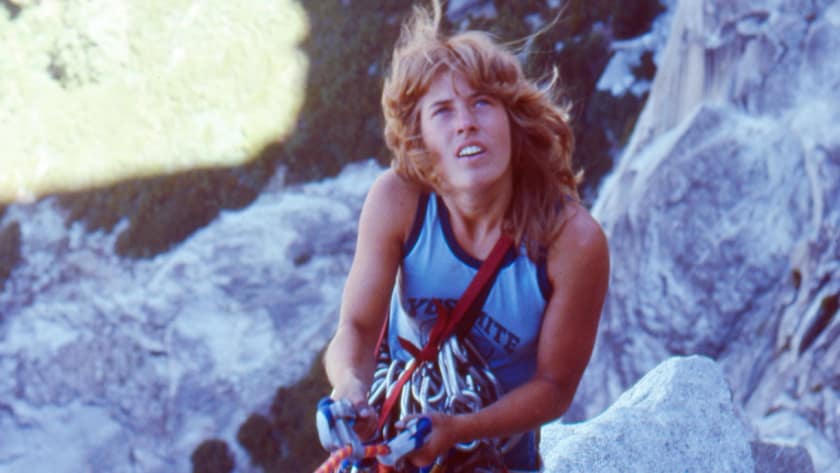 Lynn Hill is a living legend. She changed the definition of what is possible in rock climbing with her first free ascent of the most famous big wall climb in the world called The Nose on El Capitan in Yosemite Valley, California. Over nineteen years later, Tommy Caldwell and Lynn are still the only two people in the world to have succeeded in making an all free one-day ascent of The Nose.
A natural athlete, Hill has competed as a gymnast and runner as well as a climber. She first roped up at the age of 14 and excelled immediately. By the late 1970s she was climbing near the top standards of the day. In 1979, she was the first woman to climb a route rated 5.12d. Lynn continued to climb routes at the highest standards of difficulty over the years to follow, including being the first woman to do a route graded 5.14 in 1991 - three years before any other woman. In 1992, Lynn was also the first woman to make an on-sight ascent of a climb rated 5.13b.
Hill discovered competition climbing during a visit to France in 1986. She quickly moved into the top ranks and won more than 30 international competitions, including five times at the Arco Rock Master, the Wimbledon of competitive climbing. The following year after her first free ascent of the Nose in a day in 1994, Lynn took her big wall skills to the high peaks of Kyrgyzstan. There she made the first free ascents of two 5.12 big walls: the 4,000-foot west face of Peak 4810 with the late Alex Lowe and the Perestroika Crack of Peak 4240 with Greg Child. In 1999, Lynn led a small team of women to the island of Madagascar (located off the coast of Africa) to do a first ascent up a steep, two-thousand-foot wall of granite. This route turned out to be perhaps the most difficult first ascent of a big wall ever done by a team of women (5.13d/A0 5.12c mandatory).
As a part-time resident of both France and Italy, Lynn has become fluent in French and Italian. Her travels have taken her to various places throughout Europe and to remote climbing destinations in Vietnam, Thailand, China, Morocco, Australia, Madagascar and South America.
Among the world's best-known climbers, Hill has been a guest at the White House and has been featured in numerous television shows and publications. Currently living in Boulder, Colorado, Lynn balances her time between climbing, running, skiing, travels to cool places around the world, and raising her son Owen.