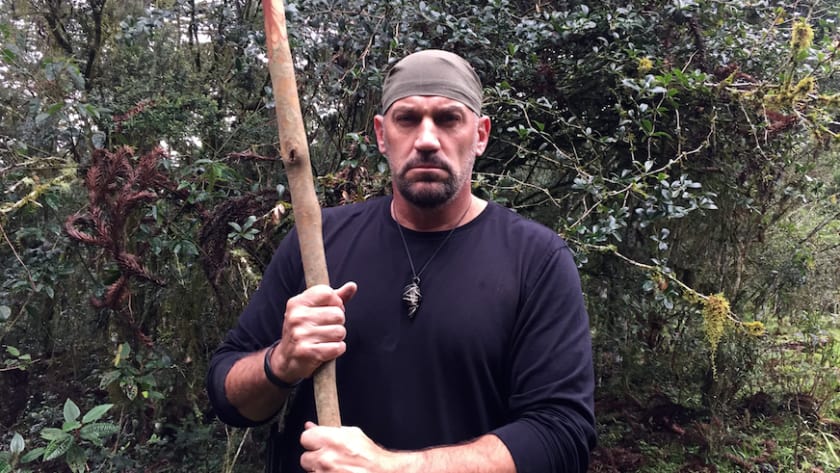 EJ SNYDER is highly decorated Army combat veteran with 25 years military service under his belt, serving Ranger positions in Infantry and Airborne units. Snyder grew up in New Jersey and joined the armed forces at 19. He moved up the ranks quickly, seeing combat in both the Gulf War in 1991 and Operation Iraqi Freedom in 2004. During his time in the Army, EJ stepped up as a Ranger Instructor, Survival & Tracking Instructor, and Drill Sergeant, earning the name "Skullcrusher".
EJ learned many outdoor skills and love for the wilderness with his late kid brother Jeff, when their dad took them camping, hiking, hunting, fishing, and trapping. They furthered those skills by canoeing, rafting, rock climbing, and long extended hikes.

When EJ was in US Army Ranger School he received his first formal Survival Training and fell in love with the idea, so he started a self-study on the skill. Once he was assigned as a Ranger Instructor, he attended US Army Survival School (SERE-C) and Tracking Course and became the Primary Survival and Tracking Instructor for the course.

Upon retirement EJ worked as a Government Contractor teaching Survival Skills to future Green Berets and other Soldiers at the US Army SERE School. EJ says that whether in the wild or on the field of combat he will always live by his motto: Tua Sponte Superstes, which means to "Survive By Your Own Will." EJ has been formally teaching survival skills to Soldiers and civilians ever since for well over 20 years.

EJ is an extreme survivalist and employs a "Train as you Fight" approach to survival, and believes in pushing not only the limits of your environment but yourself as well. He is constantly pushing these limits and trying to continually break through the "Laws of 3 of Survival". He has thrust himself into many extreme survival situations and environments to grow as a survivalist and pass these lesson onto others. EJ believes that his brand of survival can be dropped into any environment, with no notice and little supplies, making it out where no man should walk.

EJ still teaches survival skills, serves as a motivational speaker, and volunteers for many veteran and charity causes. EJ has previously appeared on Discovery Channel's Naked and Afraid three times, TNT's 72 Hours, and History Channel's Patton 360, amongst other TV & Film projects.