Caving Consultant: Job Description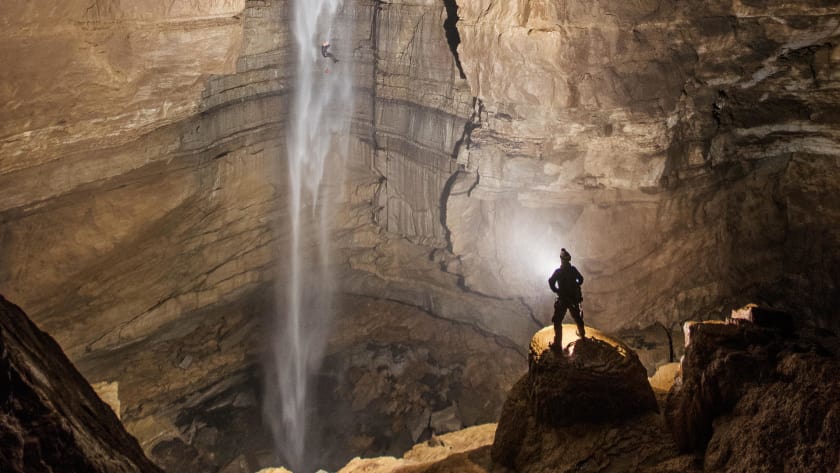 COMPANY BIO
Chris Higgins and Clinton Elmore are veteran caving consultants based in Knoxville, TN. Smack dab in the most cavernous region of the U.S., their company is uniquely situated to lead a variety of ambitious caving expeditions for clients that include universities conducting archaeological digs and private companies in the oil and gas industries. With over a decade of experience, they've explored the world's most inaccessible caves, including Mexico's deadly Systema Huatla.
SAMPLE ACTION
Every job is a treacherous journey that takes these guys miles underground, often through dark passages with no end in sight. Moving through the caves requires them to repel into chambers that are thousands of feet deep, only to barely squeeze into two foot wide spaces as they crawl on their hands and knees. All the while, they're using surveying instruments to map the tunnels, and excavation tools to collect critical samples. There are obstacles around every corner, including boulders, waterfalls and underwater pools.
FEATURED JOB
Chris and Clinton were recently commissioned to lead a university research dig at Blue Spring Cave outside Sparta, TN by a paleontologist studying leopard tracks allegedly found in one of the cave's pits. The rumored tracks have puzzled researchers because leopards are no longer native to Tennessee. The goal is to locate the pit and collect molds of the tracks to establish their age and how the leopard may have fallen in the pit originally. Blue Spring Cave is the longest in the state, with 38 miles of passage that's been mapped thus far (and more left to be discovered!). It's definitely not a job for the faint of heart.
STAKES
Unlike recreational caving, commercial caving takes consultants to caves where the hazards and even the routes are unknown. It's a down-the-rabbit-hole type situation, where the consultants have to make gut decisions about what options to pursue, since they can only be underground for a set amount of time. Increment weather, rock falls, contaminated air, blocked passageways, lack of food and water, and mis- rigged repel lines can easily lead to injury and death. The lives of the entire group are in the hands of the consultants at all times.
LIFE IN THE WORKPLACE
Before Chris and Clinton became consultants, they caved together for fun, and fun continues to be a big part of the way they run their business. Even on days off, the duo can be found mapping new caves and visiting sites that other people have deemed "too dangerous." It's a high risk, high reward workplace where discovery and adventure are encouraged.
ROOKIE CULTURE
Chris and Clinton will often recruit rookies from the caving community and vet them on informal weekend expeditions. When a commercial job in the area comes up, its a chance for the rookie to prove himself to show them that he's capable of taking on bigger jobs. The caves in Tennessee (some of the deepest in the country) are the perfect "training ground" for rookies hoping to get more serious international gigs.