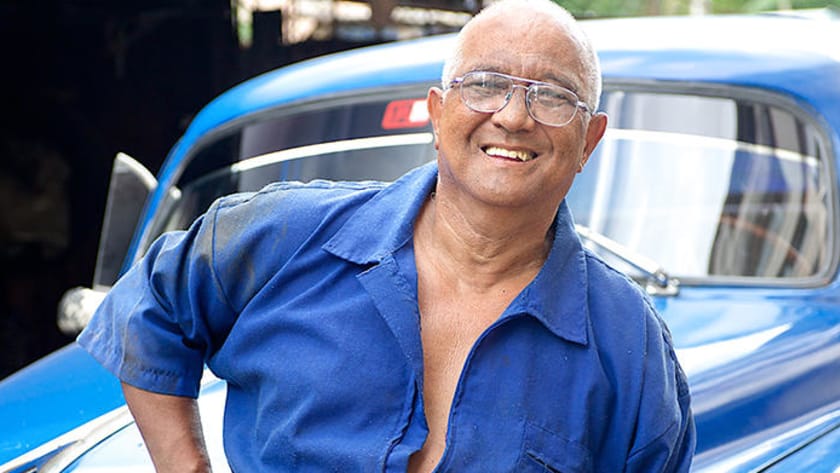 "THE PEOPLE'S MECHANIC"

Demetrio is an energetic and animated family man who does not let obstacles bring him down. He truly represents the Cuban spirit of never giving up and struggling to make ends meet. He has the "make something out of nothing" mentality that it takes to provide for his family and survive. Demetrio's an excellent storyteller and his stories are real life experiences that are much more interesting than fiction. He does not belong to the A Lo Cubano classic car club yet, because he does not have the means, but the idea of joining the club is attractive to him because restoring his classic car, which would be a requirement in joining a club, would mean he could use it as a taxi for tourists, and make much more money for his family.
Demetrio has two sons with two very different personalities. Michel, the older of the two, has a degree in Psychology and is the "intellect" of the family. He's always quick to laugh and smile. Hernan, the grease monkey, is more frank and honest. He's finishing his last year of university where he will obtain a degree in Public Communications. Neither son practices their profession, because it's not yet legal to charge for such services in Cuba. Instead, they both work alongside their father as mechanics and taxi drivers for locals, where they can actually make more money. Both Michel and Hernan have children of their own. Demetrio loves his two sons immeasurably and listens to them, but at the end of the day he is the boss and makes all the decisions.