Richard Rawlings & Aaron Kaufman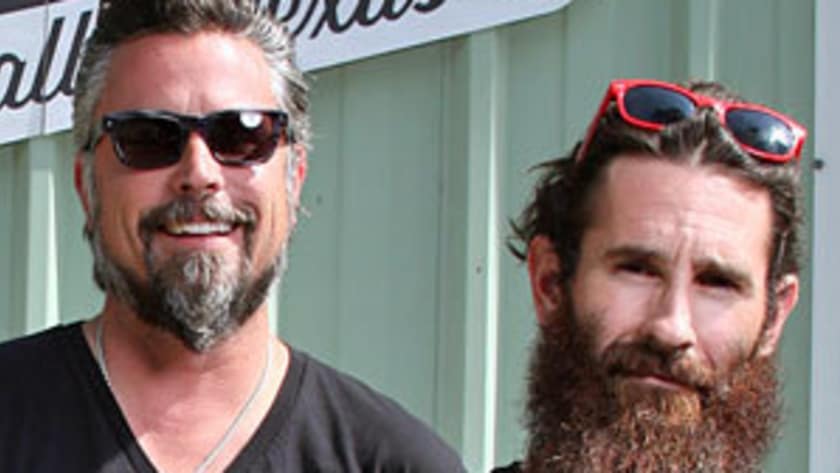 Newcomers to the biker build-off, Texas natives Richard Rawlings and Aaron Kaufman have their sights set on taking home the grand prize (and bragging rights) at this year's Chopper Live. These two motor masterminds have made a name for themselves in the world of classic car restoration, but will there expertise carry over to motorcycles? Here's the lowdown on Richard and Aaron:
Richard Rawlings, a native of Fort Worth Texas, followed in his dad's footsteps and developed a passion for cars from an early age, building cars and attending car shows with him. The earliest photograph of Richard, aside from his infant years, is of him sitting in a Volkswagen Beetle pedal car. Richard bought his first car when he was 14 years old: a green '74 Mercury Comet. By the time he hit his senior year in high school, he was already on his third car, a '77 Bandit Trans Am. Richard says he has always worked just so he could have cars. He even took a bullet in the early '90s as he fought off a carjacker who was trying to steal his '65 Mustang 2+2 Fastback.
Richard has held several jobs to feed his car habit. He was a firefighter, police officer and paramedic all before he was 21 years old. He eventually left those jobs to start his own business, building a printing and advertising company from the ground up. He later sold it so he could fund his next venture: Gas Monkey Garage—a world-renowned hot rod shop that has produced and shipped cars for people around the world.
Aaron Kaufman, originally from Crowley, Texas, is a self-taught mechanic, fabricator and all-around hot rodder. He grew up taking things apart and putting them back together—he just didn't put them back together the same way they came apart. His high aptitude for mechanics and passion for cars led him to the hot rod world. But he didn't want to just be good at what he did. He wanted to be the best at it. And that passion is what has driven him to succeed.
Richard met Aaron when Aaron was working at a local car shop. Richard went in and said he needed someone to air ride his '53 Ford Mainline and asked for their top guy to do it. They gave it to Aaron. Years later, when Richard opened Gas Monkey Garage, he remembered Aaron and the pride he took in his work. Richard found Aaron and asked him to join him in his next venture.